I read a ton of threads saying that this would be a straight swap, well it wasn't. As I understand it, 2003-4 STi steering wheels (peanut before the 2005 with DCCD) do swap in. These look like this.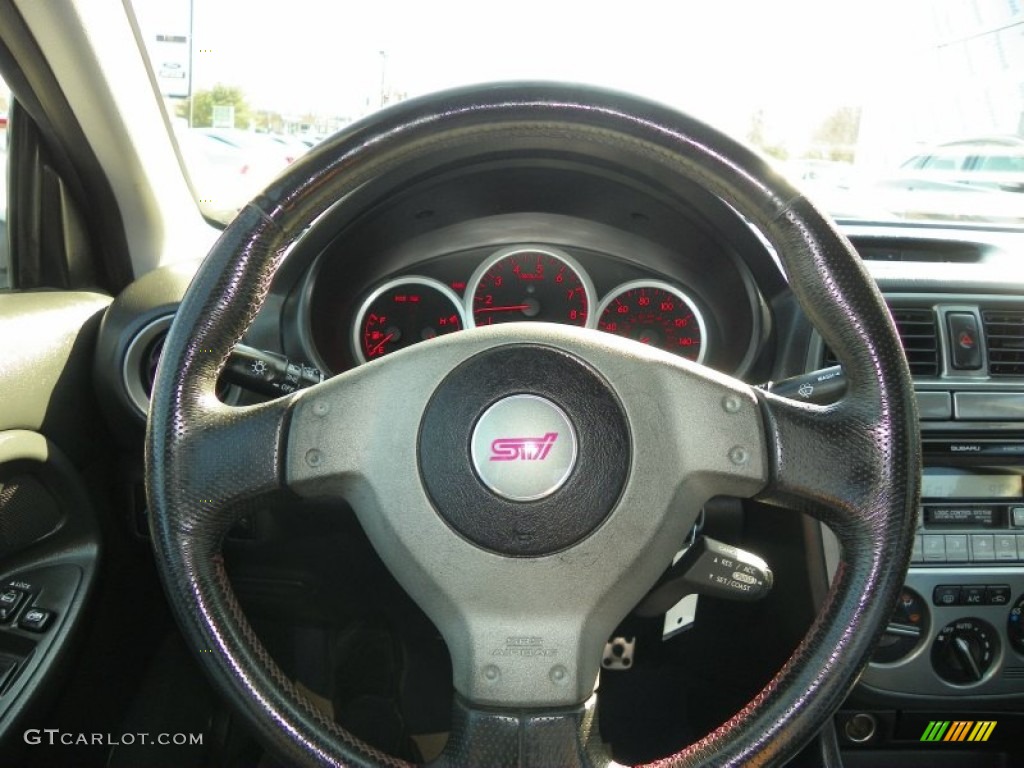 I don't like the grey centre insert, so I decided to find a 2005 wheel and install it. I sourced one from an eBay wrecker that didn't come with the airbag igniter. No problem - I can swap mine over, right? (what forum threads seem to indicate) Wrong!
So after buying the 2005 wheel and taking mine off, this is what I had. I was going to swap airbag charges over but as you can see, they're different sizes.
Back to the drawing board. Or more accurately, my local wrecker. I ended up going to Import Nation in Braeside. They were extremely helpful and managed to hook me up with a 2005 WRX wheel, clock spring and airbag.
This is what the 2002 WRX clock spring looks like - notice the different airbag connector.
Why another wheel and clock spring you ask? Good question.
2005 WRX/STi airbag uses a different electrical connector to the 2002 WRX, so swapping charges was not going to work. I'm loath to cut and solder wiring related to airbags so I planned to swap the clock spring over in it's entirety. What about the wheel though? I originally was going to retrofit my cruise control stalk into the STi wheel as the wheel is from a JDM car that didn't come with cruise. Here's a post describing how to do this (on a 2004 wheel).
http://www.scoobymods.com/showthread.ph ... -9521.html
The 2005 WRX wheel, airbag and cruise control were sold as a single unit and were quite frankly super cheap - so I just grabbed them. I figured the cruise control wiring couldn't be too hard to figure out.
I swapped the airbag charge over from the 2005 WRX wheel to my new STi wheel then moved to the car side of the swap. I pulled my steering wheel off, removed the steering column shroud and pulled the dash trim away to access the harness end of the clock spring. I then removed the clock spring and installed the 2005 WRX clock spring in it's place. I had to mod a couple of the mounts that attach the clock spring to the indicator/wiper module, but once done everything lined up and held securely.
The rest just plugged in and to my surprise the cruise control worked with no changes. The on/off button on the 2005 stalk doesn't as in the 2002 WRX this is a separate button to the right of the steering wheel, but the rest does. I'll probably delete the button and wire in the stalk button at some point. There's always more mods to be done!
End result?
From this
To this
It's worth noting that in 2006 Subaru changed to dual stage airbags, so nothing after 2005 will be electrically compatible with an earlier vehicle. Luckily though it seems that the airbag charge size was not changed in later models, so you can theoretically swap in an 08 STi wheel and swap the charge over to be compatible with your control unit. I'm not that game...but if you are then this may be of use.
http://forums.nasioc.com/forums/showthr ... ?t=1963588
Good luck, happy modding!