Like the heading says, we just got back from 5 weeks and 5000klm road trip around Japan with a friend who has lived there for 20 years. Saw some amazing places and some sad sights. Walked around on active volcanoes, experienced some earthquakes drove through Fukishima radiation zone , walked klm in giant caves, got blown away on huge sand dunes, strolled through many world heritage sites of amazing beauty, but lets get onto the cars..
Firstly I must say I was struck by the lack of modified cars on the roads. If there is some there then they are well hidden and only driven on rare occasions. I saw a total of 2 confirmed wrxs the entire journey and about a dozen stis. A few older Evos, almost NO big 4x4s like patrols etc. We definitely have a bigger car culture here per head of population. Most people in Japan drive small "k" cars....less than 600cc, can be turbo or supercharged. Easily identified by the yellow number plates..
They are everywhere. The get very cheap rego and are allowed to park anywhere without restrictions. Before I go any further, you may have heard about the "Kyoto Agreement" that Australia refused to sign and gee am I glad we didn't... What a Hassle..
It's all about being as green as possible... It includes 30,40 and 50 kph speed limits everywhere except tollways..Imagine driving to Sydney at 50 kph...These slow speeds gets everyone catching trains. The tollways have a speed limit of 70-80 KPH but they are very expensive. They toll costs were TWICE what our fuel bill was and our car was getting 10 lphk.. To make sure you stick to these limits, they have speed cameras everywhere. And fake cut out police car rears with flashing lights sitting on the side of the tollways. It is also illegal to wreck a car without a wreckers license. You can not sell 2nd hand car parts unless they are accessory type parts because they dont want anyone pulling their cars apart incase they spill oil or coolant into the environment. Bit of a double standard going on there when Fukishima is leaking 500tons of radioactive water into the Pacific Ocean EVERY DAY and along both sides the road in Fukishima there are thousands of 1meter square plastic bags full of radioactive material that they don't know what to do with and they have a 30klm exclusion zone instead of the recommended 75k exclusion zone because that would basically cut Japan in half as all the main toll roads, main roads and most of the rail lines including the Shincansen (bullet train) go through the outskirts of the city . There is also almost NO rubbish bins in Japan.. If you buy a coffee, which is almost impossible to get, you either have to give it back to the coffee shop or take it home and put it in the "combustible material" recycle bin in you kitchen, beside you plastic bin and you metal bin.. They don't do landfill. It is either recycled or burnt . Lots of solar springing up and wind farms near the coast as they have decided that Nuclear may be a health hazard. I must admit there is not a lot of air pollution in most large cities but industrial places like Hiroshima smell and make your eyes water and you can barely see out to Miyajima island which is one of their most prized Temple sites.
And don't get me started on the huge feral Pine Tree problem that has almost destroyed their natural environment and caused massive landslide problems all over thier country...
Most Japanese rarely drive their cars more than to the shops or work as they don't have a lot of holidays. We were there during "Golden Week" which is their biggest holiday season and for a lot of Japanese it is their once a year chance to drive their cars somewhere. The roads are a nightmare during this time. Imagine the equivalent to the entire population of Australia taking to the roads all at the same time..We were purposely near NO major cities and when we went into a tollway roadhouse at 2am it was PACKED with dozens of people, and dozens more sleeping in their cars in the car park. Maybe 200 cars there.. They factor in speeding fines into their holiday budget and if they get soo many fines that they loose their license that doesn't matter because they can do without their car for 3 months anyway. One friend who's house we stayed at for 2 days got 7 speeding fines on his last holiday. Our friend who we were traveling with however uses his cars all the time so he insisted that we didn't speed too much. It is so hard to stick to 80kph on a beautiful dual carriageway when others are doing 120 . I was actually tooted and tailgated by a few people for going too slow....me...going too slow... I eventually just stopped driving as it was just too frustrating. My wife drove instead and at one time we caught her doing 2 1/2 times the speed limit...(100 in a 40 zone) ..She will never live that down. I think we racked up a few fines. Fortunately our friend is coming to OZ for a few months starting in July so it wont matter.. He said he would pay the fines...
We did see some nice cars.. and drove in some very rare cars as well including the first Subaru ever manufactured. It is called a Subaru 360 Deluxe .. The 360 refers to the 360cc 2 cylinder engine. It has a 3 speed gearbox and is surprisingly nimble. It was made by the company that used to make the famous WW2 Japanese ZERO fighter plane. After the war they were told to start making something else so Subaru was the outcome.. My friend has 2 of them as well as 40 or so other very rare cars but he knows how much I love Subarus so he had this one prep'd and ready for us to do some sightseeing..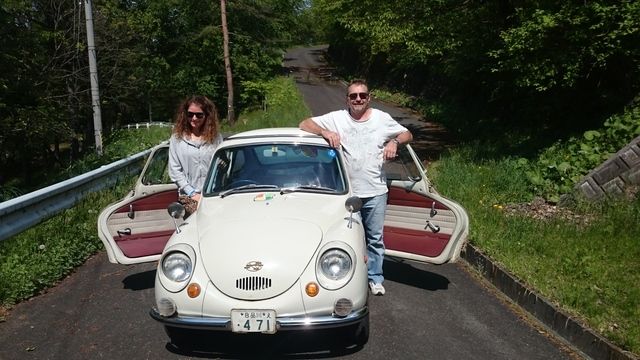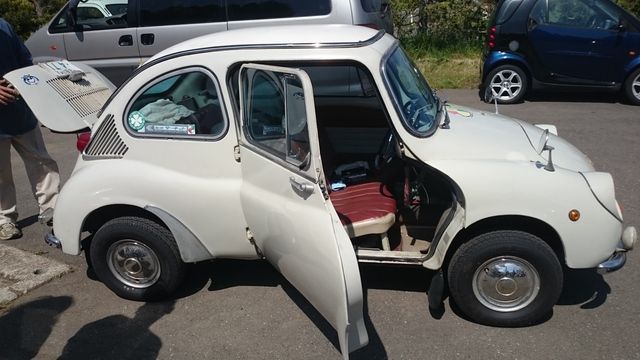 He has a collection of 7-8 very rare Prince Skylines including a stationwagon. 1/2 a dozen old VWs, a few Datsun 240z, 6 classic Mercs, a couple of 3 wheel Mazda trucks and a heap more.. Most were stored in sheds with covers over them. We had a good poke around. His daily is a LHD M series BMW convertible..very nice..
We also went to a workshop that specializes in lift kits for 4x4s as well as complete car wraps. It was a holiday but my friend is a good friend of the owner so he came to the workshop and opened it up for us to have a sticky beak. Had some really cool stuff. He had one 4x4 that was totally wrapped in Leopard skin.. Looked fantastic..
He specializes in lifts for Delicas, I have a beautiful one here in OZ and we did our 5000ks in one while in Japan.. He had just finished a 7 inch lift on the Orange one and while we were out having a test drive in it, the owner of the workshop took off and borrowed the black moster for us to have a drive in. It used to belong to my friend until a couple of years ago and he knows the new owner so he was happy for us to take it for a drive. It has a 22" lift..It is very difficult to see what is around you etc in the mirrors so it has cameras and screens (6) so you can see whats near. It was crazy to drive but drove and handled very well.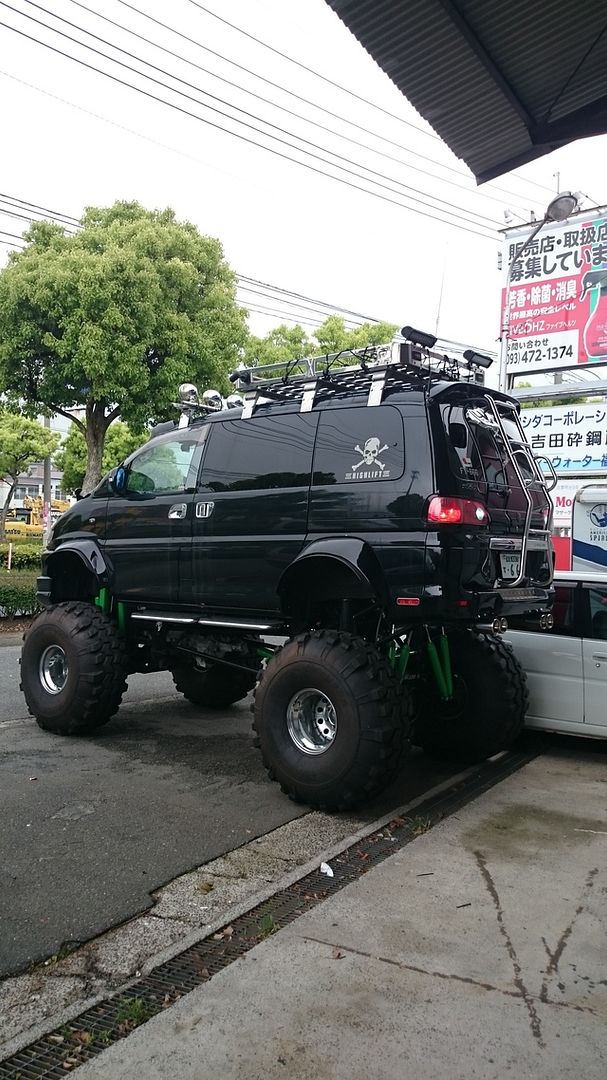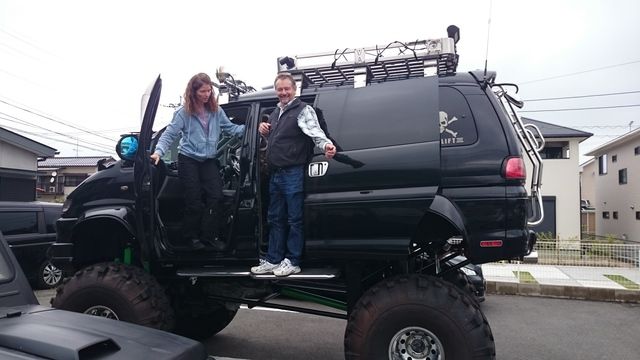 The Silver Delica on the right is the one we were traveling in.. It is same year/model as the black one...
We were supposed to go to one of Japans most famous tracks down in Kyushu but the severe earthquakes have damaged it so we missed out on some very exciting drifting and some track fun in some very fast cars including electric cars... bummer.. but I am not complaining. We did 2 amazing things almost everyday.. Anyway.. It is nice to be back home again. Got home Thursday morning with a head cold but starting to feel better today. I am taking my blue rex for a drive tomorrow up in the mountains although after climbing around on a volcano at 2500 meters last weekend, the mountains around here a bit more like hills...
Where we were standing is 250 meters higher than the summit of Mt Kosciuszko and there was snow just out of the pic and most of the way up to the crater..