Hi all!
I've had my australian V5 for around 4 years now - it has evolved constantly over that time. I picked it up with the 6 speed already in it, but since then its changed quite a significantly.
Rough overview on the mods;
Engine:
GTX3071R
Turbosmart Gate
Custom rotated pipework, down pipe, process west FMIC
Deatschwerks 1200cc's fed by a walbro intank and turbosmart FPR on E85
Autronic SMC
HKS EBC
Suspension/Driveline/Braking:
Whiteline everything:
Whiteline H Brace
Whiteline Adjustable Roll Centre Kit
Whiteline Anti Lift Kit
Whiteline Adjustable 22mm Front Sway Bar
Whiteline Adjustable 24mm Rear Sway Bar
Whiteline Rear Strut Brace
Whiteline Rear Sub Frame Lock
Whiteline H/D Rear Swaybar Mount
Whiteline Front Spherical Swaybar Links
Whiteline H/D Rear Alloy C Links.
Cusco Coilovers
R180 2 way mech rear diff + GD sti driveshafts all round
04 sti 6speed with DCCD
Brembos front and rear with Project MU + DBA rotors
Prodrive P1WRC 18x8 + Advan a050
Group N mounts
Perrin short shift kit
Interior:
Apexi gauges x 5
Zerosports + Greddy pods
velo wheel
recaro SPG
V6 LTD interior (dash and passenger seat)
car made 360whp on 1.6bar - i've since lunched the engine (suspected dropped valve) and am in the process of building a new one for it.
Cant seem to embed video - but here's a link to a video on the car!
https://www.youtube.com/watch?v=J7oREPMNbDc
Looked like this when i first bought it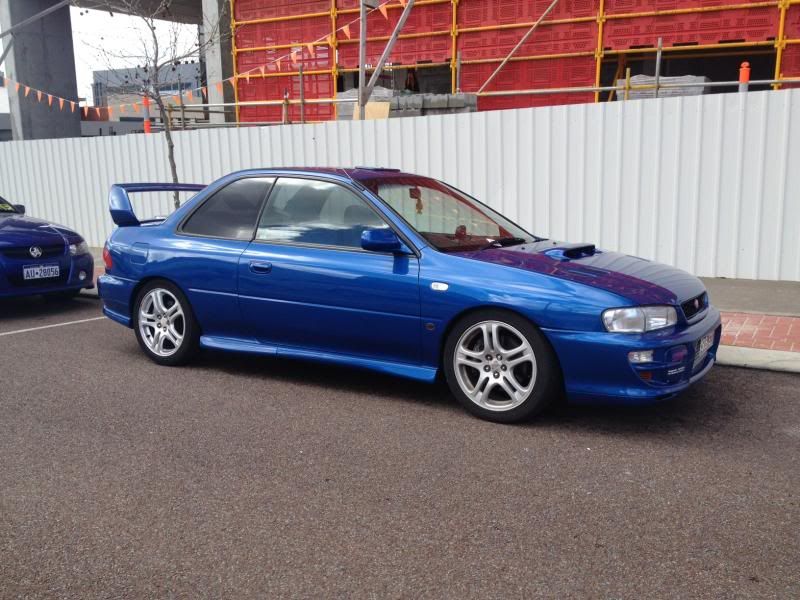 [img]i24.photobucket.com/albums/c44/WRCjosh/53D9C945-1F2C-4076-951F-58A6B94E749B-7624-000004968D1336751.jpg[/img]
added prodrives
recaro
Painted wheels black, added V6 STi lip
how it looks today