*Couldn't post this in the DIY section as I am not a member, however, wanted to contribute my efforts to numerous Australian WRX forums.
Feel free to move it to the DIY section, however I request notification of doing so, and no 'credit stealing' for my work.
Cheers.
DIY: MY03-05 Impreza "Headlight Clearing"/"Amber signal removal".
By Campbell Watson (05-rsx)
OK, so I finally did it!
After months excuses and busy weekends, I finally found the time to Remove the ghastly orange indicator/turn signal from my headlights. And while I was at it, I decided to take some pics to form a DIY for those who may wish to do it in the future.
-------------------
Important notes:
-Read the whole DIY first, before beginning it.
-Do one light at a time, that way if you bugger up and forget how it went back together, you can refer to the other one that's still good as you haven't touched it yet.
-Never, ever, under any circumstances touch the globes or reflector housing (the bit attached to the back of the assembly when you pull it apart). Oil from your fingers will heat up when the globe is in operation, making it much more likely to fail. Grubby finger marks on the reflector housing
will not
simply "just wash off later". It
will
bugger up your light pattern - not cool!
-Be careful, take your time, and don't rush. When you rush, is when mistakes happen (I know I'm sounding like your parents, but there's truth behind it)
-IMO, its best to keep your hands as clean as possible throughout. Don't adopt an OCD, but just be mindful.
-Standard disclaimer: If you bugger up because you blindly followed this DIY guide, it's not my fault. I did not cause you to make the mistake, nor even do the mod. Below is the way I did things, which turned out to be successful, either by method, or chance.
Also, if you violate any legals (road rules, automobile design rules, etc) by doing this modification to your automobile, I accept no responsibility - check the rules before you do anything.
--------------------
Time:
Took me, as a 'first-timer', around 3hrs. 2nd lamp was a lot easier and quicker than the first for obvious reasons.
--------------------
Tools:
-One set of 2 globes to replace indicators. Stock ones are clear and will flash white. AFAIK, nowhere in the world is this legal. Either get the orange tinted glass globes, or the 'I'm silver, but flash orange ones'. I bought the latter, specifically Phillips Silver Vision WY21W (12V, 21W), which has a wedge shaped base.
-10mm Socket
-Suitable ratchet for socket
-Medium Flat-head screwdriver
-Large Flat-head screwdriver
-Medium Phillips-head screwdriver
-Small Phillips-head screwdriver
-Pliers
-Oven (Preferably fan forced, but not essential, so don't freak out if yours isn't)
-Oven mitts (a must, the assembly gets blooming' hot!)
-One 03-05 Impreza with 'ugly' orange bits, and the serious want to remove them (
this mod is not for the faint hearted
. Having said that, if you take your time, and are careful; like all things, it should be fine)
For males: One set of large balls.
For Females: Knowing that you may possibly be wrong in the near future (shock) ; alternatively, a male who fits the above criteria.
--------------------
Step 1:
Acquire car that looks similar to this (may have additional drag-creating bonnet scoop)
Step 2:
Before we start to remove the headlight assembly itself, we have to remove the grille; so pop the bonnet and unhitch the 4 small, and 2 large clippy things. Small top ones can be unclipped by using a finger (if yours is narrow enough), or a small flat-head screwdriver.
*If in doubt, you can refer to manual*
Step 3:
Now the grille is out of the way, we can remove the 3 10mm bolts holding the assembly in place:
I also removed these 2 plastic rivet things. It makes it a lot easier to get the headlight out as you can now shift/move/bent the bumper a bit to get that tad more clearance.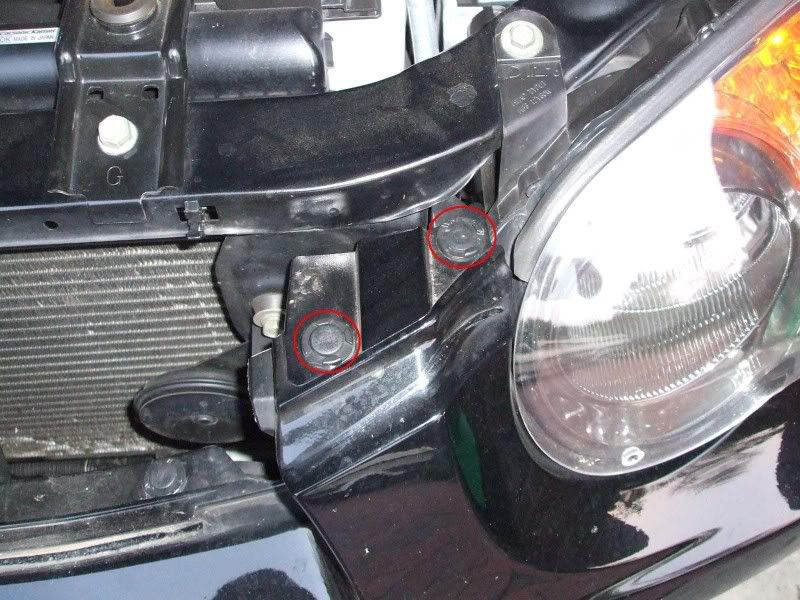 Step 4:
Now to pull the light out of the clips its being held in there by (yes, even more stuff holding them in! Obviously Subaru didn't want them coming out easily!
)
I've found disconnecting the low beam, pulling the inner-most corner of the assembly out first, then maneuvering the outer edge out the easiest way. Followed by maneuvering the light so you can then disconnect the high beam and parker/indicator plugs.
Following pics thanks to 'skivvie' over at NASIOC: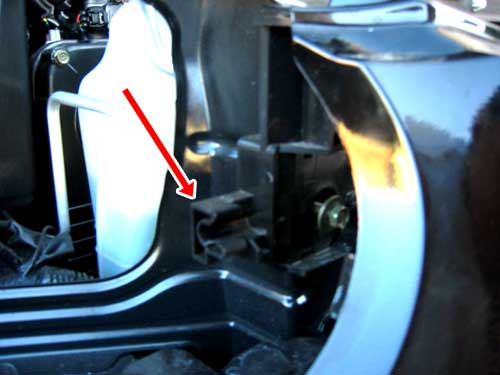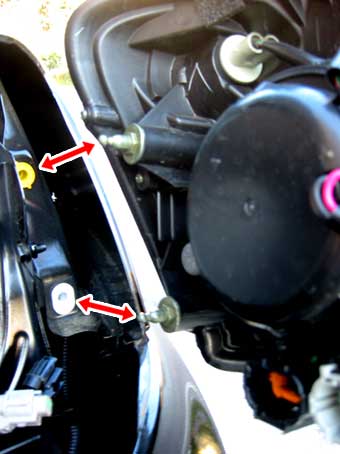 Step 5:
OK, so you've managed to remove one light, either by skill or luck. Well done.
You can now take this inside, but whatever you do, when you put it down, lay it on something soft, like a (clean) towel or carpet, that won't scratch the lens.
Now to go about removing all the globes and associated wiring.
Step 6:
Low beam.
Turn the Bulb stem anti-clockwise so the slots line up with the recesses, then pull out:
Step 7:
Indicator & Parking.
Again, same as low beam, twist anti-clockwise, and pull out.
Step 8:
High beam.
First remove the water/dust-proof cover by the same method as above.
Pull off the negative/ground (black) carefully by using a pair of pliers, should slide right off.
Then push-slide the retaining clip in so that you can get the high beam bulb out.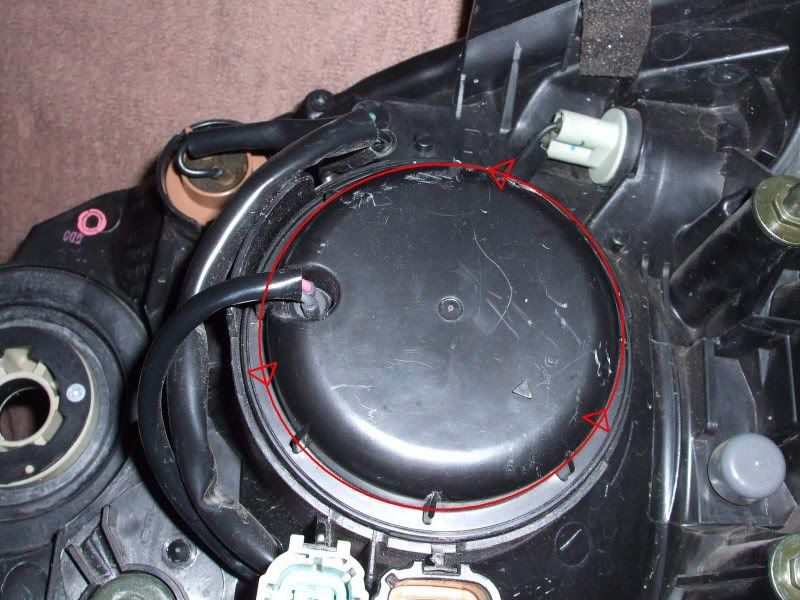 The plug-ends (grey and black socket things) can be removed from the back by either holding them (note, not holding the wires) and pulling firmly, or using those pliers you had before.
Step 9:
Preheat the oven to 200 degrees
Fahrenheit
, which converts to ~90 (93 to be exact) degrees
Celsius
. In other words, take it to 100*C, then back a notch.
This is what you should be looking at: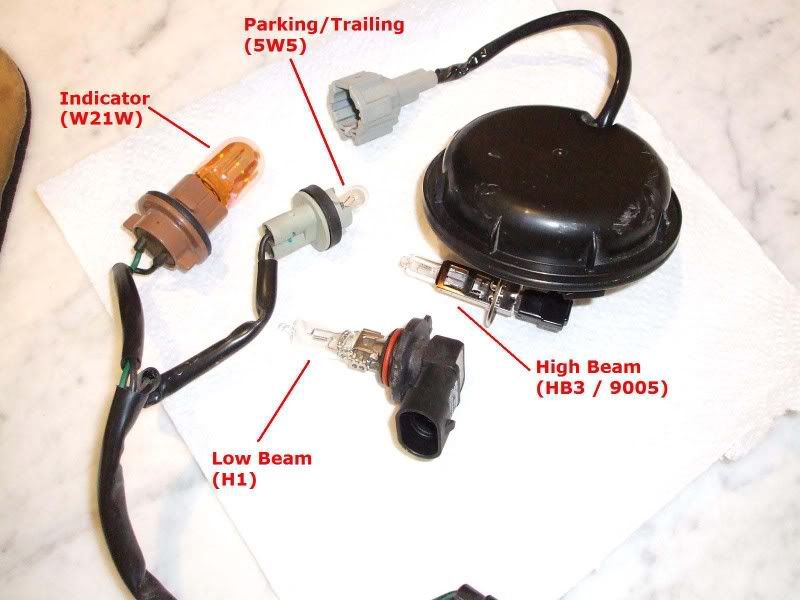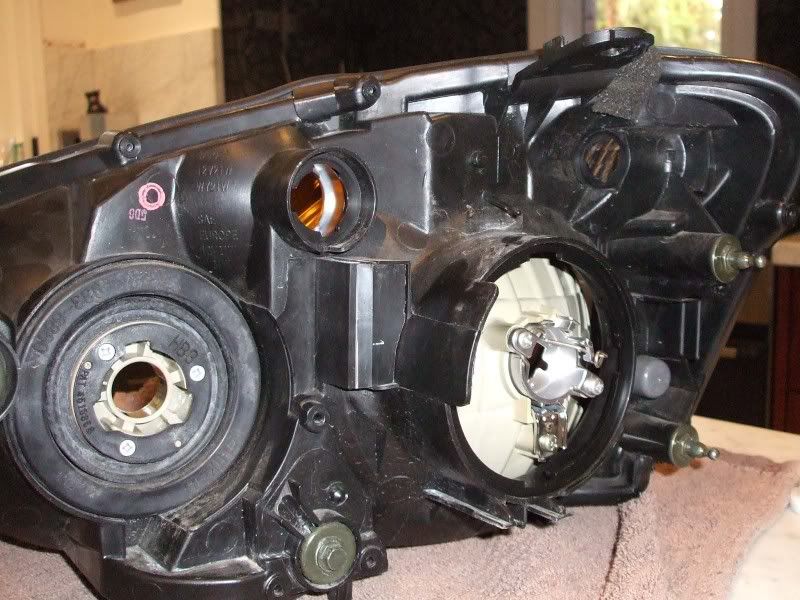 Step 10:
For those that have headlight protectors, now is the time to get those metal clips on the top off. I found it easiest to lift up the seal, then jiggle them around so they slide under the seal and come out the back. I forgot about them and left them on when I put them in the oven, only later to discover that they are good for 3 things: 1)As brackets for the protectors; 2)Retaining heat; 3) Holding the assembly together which prevents you from easily pulling it apart.
Step 11:
Oven nice and warm, pop 'em in like such:
This is the point when my mother stopped asking questions and walked out of the room.
10-15 minutes seems to be the going rate for 'baking'. The point of this is to soften the 'glue'/sealant stuff that holds everything together so we can get it apart.
My advice: check at 10 (most probably not done) if not, check again at 15. Some may require as long as 20 minutes.
Step 12:
When you pull them out use gloves, and try to pull apart the front from the back. Failing that, try gently prying with a medium flat-head screwdriver. Mine required a fair bit of force to start them, so don't be scared to have a bit of a heave; just don't try and be the world's strongest man, as more often than not, you'll end up the world's biggest fool as you have to shell out the ~AU$350+ for newies!
Break it open at the top, then carefully watch the tabs at the bottom so as you don't break them. Possibly even use that same screwdriver to 'unhook' the tabs
This is what they should look like apart:
I placed the "back & reflector housing" part in a safe, out-of-the-way place where it wasn't going to be touched by grubby fingers or knocked.
Step 13:
Take the lens/chromed housing part and lie it face down as per the last pic above. There is one single Phillips-head screw holding the chrome bit onto the lens. It's about 2/3 to the left side, along the bottom. Remove this screw.
I found it easiest to then pull the top out, followed by the bottom (and reverse for getting it back in)
Now put the lens in a safe place.
Step 14:
The orange lens is hinged on one side and clipped on the other. It will simply fall out the front by squeezing the fork-like tabs, and with a little push: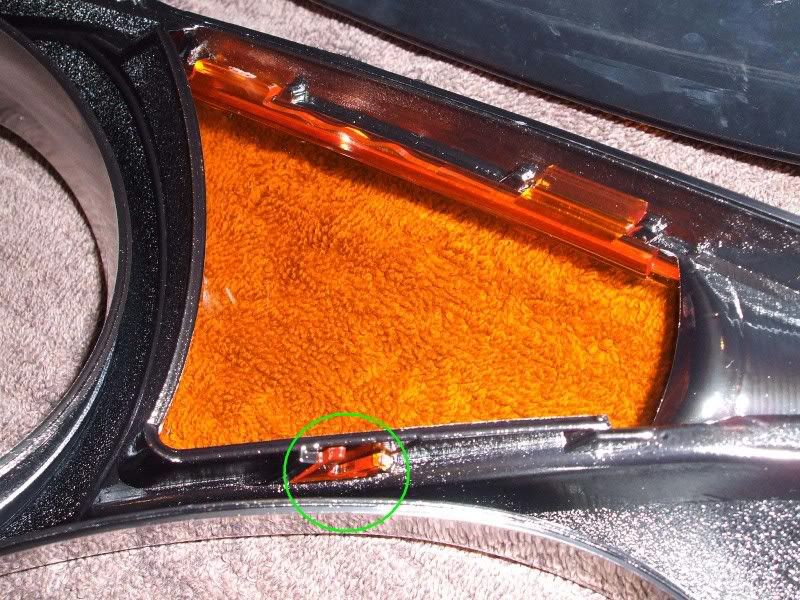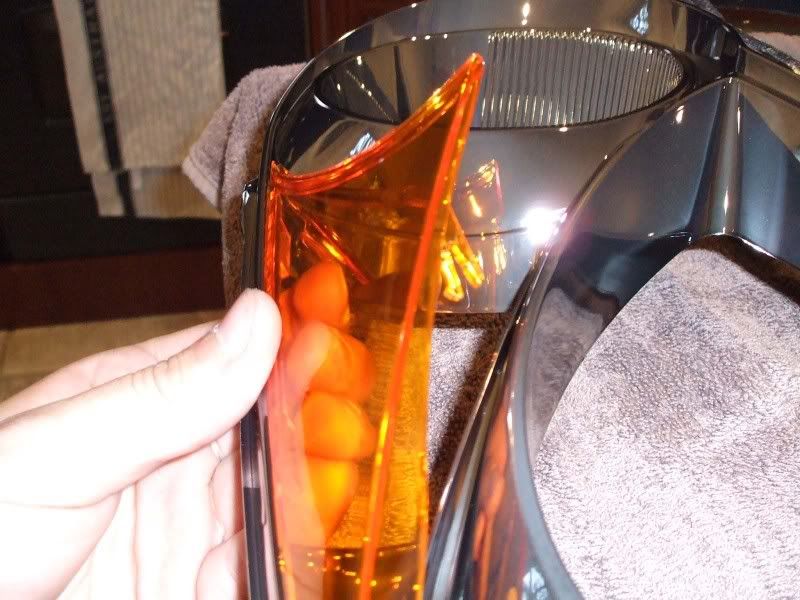 Step 15:
For those who wish to 'blacken' their surrounds, now is the time to do it. I didn't do it myself, but apparently some plastic etching paint (to prepare the smooth chrome surface which paint will not stick to normally) and a can of high-temp paint will do the trick.
Step 16:
Follow the above steps backwards:
-reassemble the surround in the lens
-reassemble front and back. Given that you didn't scrape all that black sealant off, if should seal back up fine. However, if you're the pedantic type, or you're the idiot that did scrape it all off, 3M make a caulk that is apparently identical to the stuff Subaru use:
Brahmzy suggested the following:
"To ensure a proper reseal of the headlight, I bought a roll of 3M "strip caulk". It's the 1/4"-3/8" thick black sticky windshield caulk. Same stuff Subaru use for these headlights and windshields. The autoparts store should have some. Put a thinnish strip all the way around in the 'trough' of the headlight housing where the lens will 'sink' into"
Step 17:
Re-install back into the car, but before you bolt it all back in, just hook up the wires and check all the lights work first.
Step 18:
Take a deep breath and do it all again for the other side.
Step 19:
Marvel in your own glory.
Step 20:
Marvel some more
Step 21:
Get over yourself, your not that good - you only managed to follow a DIY some 19y.o. kid in Australia made when he did it on his RS.
Some after/during pics: